CORA DIETL (Giessen) AND HER STUDENTS
Hanns Wagner: Tragoedia Vrsana (Sant Vrsen spil)
60-90 min run time

Cora Dietl and sixteen students from Giessen present Hanns Wagner's Play of St Ursus, a Swiss Counter-Reformation play (1581) about Solothurn's patron saint. It was written for the centenary of Solothurn's acceptance to the Swiss Confederation. By the end of the sixteenth century the friction between the Reformed and the Catholic members of the confederation was strong, and Solothurn used a medieval-style saint play to stage Solothurn's Roman Catholic identity.
The audience will observe how Hyracus, the Roman governor or Solothurn, struggles with Emperor Maximian's order to kill the Christian soldiers, members of the Thebaic legion, who had fled to Solothurn: Ursus, Victor, Constantius and their comrades quickly manage to convert the people of Solothurn to Christianity and can even convince Hyrtacus' councilor and vice-governor Symbulus. Repeatedly they are freed by an angel, they expel the devil from a statue of Mercury, and God strikes Hyrtacus with a lightning, killing his rat. In the end there cannot be any other solution than to decapitate them. However, this is not the end of the story. There is another miracle proving their holiness, and Christ himself confirms that Ursus will be patron saint of Solothurn, protecting the city against political and religious enemies.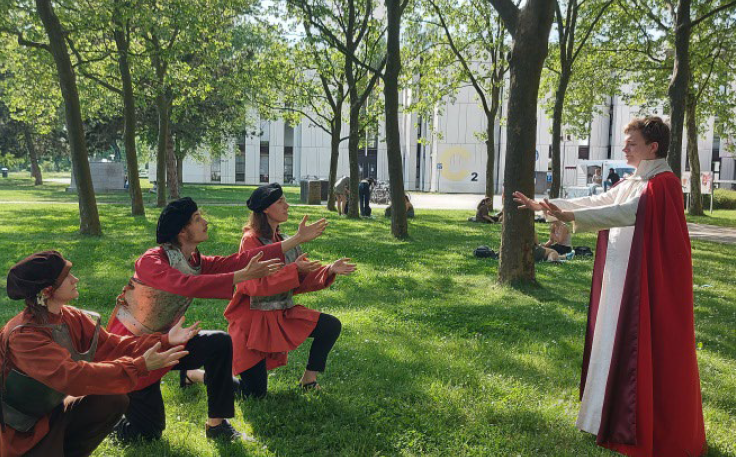 GEISSLERS HOFCOMOEDIANTEN
Dance of the Dead
60 min run time

A production inspired by a unique cycle of painted frescoes from the Kuks Hospital, a Baroque residence of Franz Anton von Sporck, a German-speaking literatus and patron of the arts. A site-specific theatrical procession, a mournful funeral, a reminder of the joys of life and their evanescence, it encourages the actors and the audience to celebrate life together, but not to forget about human mortality. With joy in one eye, and a tear in the other… Energetic, Affectionate, Empathetic, Rhythmic, Thrilling, Playful, Spectacular, Fantastic – and above all, comical.

Note: Should you seek to understand all the nuances of the plot, and not be caught off-guard when the actors start interacting with the audience, it is possible to familiarize yourself with the English translation of the performance script prior to the event (download here).
Geisslers Hofcomoedianten is an independent theatre company that combines old traditions with live, contemporary theatre. The theatre takes inspiration from baroque dramatic conventions, but approaches it with authorial freedom, mixing the original with the new, the comic with the tragic, the exalted with the down-to-earth, drama with singing, and puppetry with dance – in short, does everything to entertain the actors, as well as their audience. Geisslers Hofcomoedianten has been bringing for more than twenty years modern, comedic, visually impressive and thoroughly musical theatre.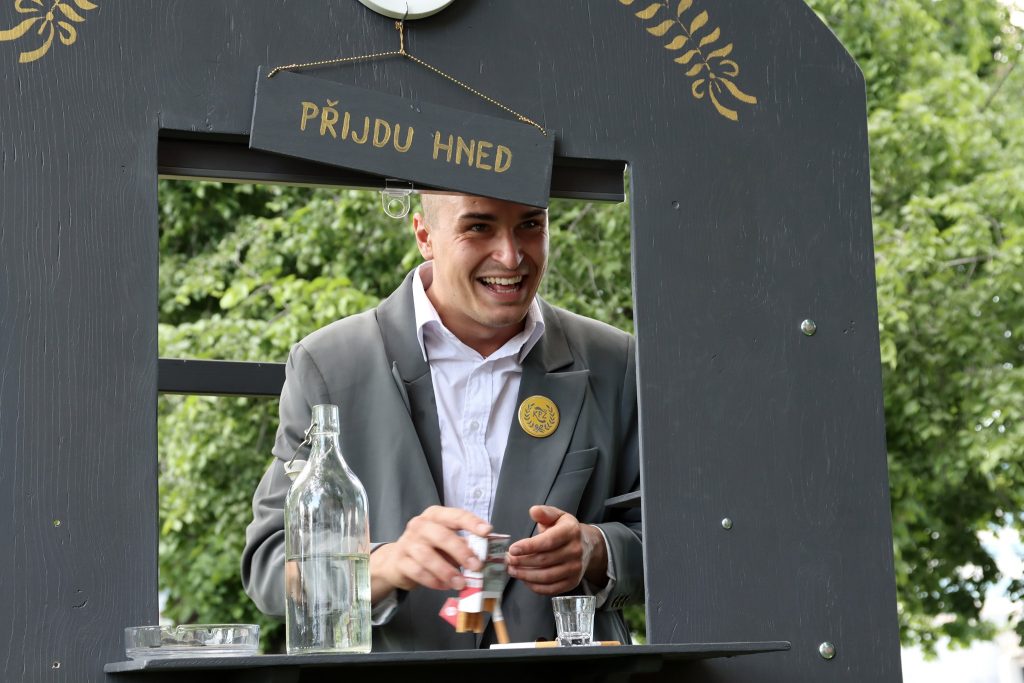 LES ENFANS SANS ABRI
No Fooling With Justice (video)
11.35 minutes run time

This translation of an anonymous late 15th-century French sottie or fools' play (its quasi-misnomer La farce des esbahis) was first performed thirty years ago at UCLA and put on film in 2021. Fools' plays in France were known to satirize the sociopolitical and religious situations of the day, often so specifically that they are hard for modern audiences to parse. This one still zings with relevance, even with its classical references! Three fools question the waywardness and injustices of the world; they seek out and confront Lady Justice to demand some answers. The response leaves something to be desired….

The Holy Life of the Blessed Saint Onion: How He was Martyred by a Cruel Chef, and the Miracles He Works Each Day (video)
9 minutes run time, language: English

This anonymous late 15th-century French sermon joyeux (Sermon joyeux de Saint Oignon) was likely intended for performance during Carnival, possibly as a companion piece to Saint Herring (Saint Hareng, which debuted at the 2010 SITM in Giessen). This mock sermon has a cleric laud a made-up saint, lament his terrible martyrdom, and hail the …potent wonders He works to His faithful followers, who enjoy his not-so-ethereal presence in many a meal. The original translation was initially done as a one-person performance, now elaborated with other actors and backgrounds in its video format.
Lady Mountebank, live performance
approximately 15 minutes run time

This short comic monologue (La fille bastelière) is a lighthearted exposé of the modus operandi of a female charlatan, woman of the world and consummate "con artiste" who traffics her snake-oil cures to the public with the aid of her jack-of-all-trades assistant. The text makes it clear that human healthcare and "lifestyle" concerns have not changed all that much over the centuries. This anonymous, early-mid 16th century French piece in original translation / adaptation is seeing its second staging in 25 years.

For over 30 years, Los Angeles-based theatre troupe Les Enfans Sans Abri has put on short plays, mostly comedies, from the 13th to the 17th centuries for divers audiences. We operate with costumes and a few props that (for the most part) we can take on the road and stage anywhere. Founded by Sharon Diane King (Ph.D. Comparative Literature, UCLA), the troupe performs her original translations of farces, fools' plays, comic monologues, entremeses, and adapted texts such as fabliaux. Performance venues have included the Hammer Museum, the Family Festival at the Getty Museum, UCLA, University of Arizona, SUNY Binghamton, Rutgers, and Santiago de Compostela. This year marks Les Enfans' fifth appearance at the S.I.T.M., a joyous occasion indeed.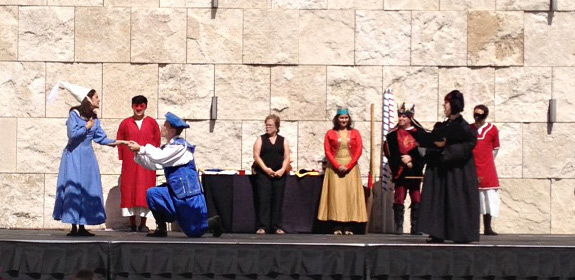 LAURIGER
CAROLUS KOLCZAWA S.I.: Veritas prostrata et erecta. Seu S. Joannes Baptista
70 minutes run time

Veritas prostrata et erecta seu S. Joannes Baptista was published in 1716 as the first play of the final, sixth volume of Exercitationes dramaticae. These dramas probably originated as model texts for teacher trainees who were to compose a Latin drama as part of their preparatory course. Veritas prostrata et erecta could be described as a typical Jesuit play from a monarchical court, combined with a martyrdom drama. Kolczawa's John is barely presented as a prophet: we do not see him in the role of a preacher who prepares the way for the Messiah, nor does he argue with the Pharisees about matters of faith. Instead, he faces court intrigue instigated by the scheming courtier Calinus (in our version lady-in-waiting Calina), and the central issue concerns the qualities of a good ruler.
The Lauriger Theatre Company, founded in 1993, has focused, virtually since its inception, on making religious plays in Latin accessible to the public. It has staged productions of more than fifteen plays and has over a hundred performances to its credit. In the early years, the company focused on performing mediaeval plays. In 2000, the focus turned to Jesuit school theatre, and in its production of Amor Doloris rivalis (2006), Lauriger attempted for the first time to apply the basic rules of stage movement as formulated by the Jesuit playwright and teacher Francisco Lang. Attending courses in Baroque acting led to a decision to apply the principles of the historically informed interpretation of Baroque theatre to plays written in Latin. The artistic component of the performance is likewise based on the principles of contemporary practice. Lauriger staged Costis sive Catharis Partheno-Martyr Alexandrina (2010) by Arnold Engel, two interludes by the same author (staged in several versions), excerpts from Joseph Sexstetter's Ismeria (2016), and in 2020 premiered Carolus Kolczawa's Veritas prostrata et erecta.


Excursion to the Court Theatre of Kačina
Guide: Jiří Bláha, theatre restorer (personal website, in Czech).